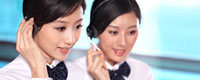 Name: Zhenjiang Shineway Co., Ltd
Tel: +86 511 87052130
Fax: +86 511 87908469
E-mail: info@shineway-ltd.com
Add: Room 715, Zhongquan Building, No. 35 East Zhongshan Road, Zhenjiang, Jiangsu, China


We, Shineway company is a professional supplier of children products and textile products in China. Our employees have many years of working experience in this filed. Our team includes purchase & sales person, production inspector, quality controller, designer and logistic personnel etc.
We have 1 share holding factory and coorperate with around dozens of factories in Jiangsu, Anhui and Zhejiang provinces. These factories are all near Shanghai and Ningbo ports. We enjoy convenient transportation.
Walmart and Disney purchased mass goods from us each year. Passing through the Walmart's inspection to the factory each year guarantees the reliability of our products quality, the production capability and the social responsibility of us. Meanwhile getting the Disney lisence authorizes us to produce Disney products and enables us to do better and better of quality controle and enterprise management.
Never stop concentrating, any little problems from our cutomers are big and important things to us.